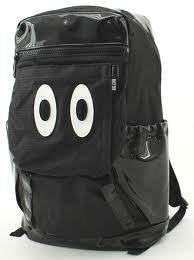 Blessing of the Backpacks & Briefcases 

This 
Sunday, September 4
 we'll send our students back to school with a special Blessing of the Backpacks during church. We also invite adults to bring their briefcases, work bags - or whatever needs to be blessed! - as they head back to the office this Fall. Please bring your bag or your pack to church, and come forward for the special blessing during announcements.But that's not all! Deacon Cynthia will also be collecting donations of new or gently used backpacks & briefcases for those in need. This is a great way to support the hard-working individuals who attend our very own 
Job Club
, and who would benefit from extra resources for themselves or their families.A message from Deacon Cynthia:
Schools are preparing for a new academic year and employers will be offering new jobs this Fall. The cost of school supplies and job supplies can be way too expensive for some of us, and nothing makes a person feel worse than not having the resources they need. That is why I am appealing to your generosity. Backpacks for students, and briefcases for job seekers will go a long way in preparing our neighbors for the classroom and the office. Let's help those going back to school and those looking for work. With God's help, I know you will help.
---
Trolley Tour of Historic Quincy 
After church this Sunday, September 4 we invite children and adults to join us for a FREE Trolley Tour of Historic Quincy! Our tour will depart from the Adams National Historic Park, 1250 Hancock Street at 11:40am (click here for directions). The trolley will bring us on guided tours of the Presidential Birthplaces of both John Adams and John Quincy Adams. We will also receive a Park Ranger tour of the Old House, residence to the Adams family for four generations.
Space is almost FULL for this FREE tour so please contact Evie Shore today!
Did You Know: The John Adams and John Quincy Adams Birthplaces are the oldest presidential birthplaces in the United States. In 1735, John Adams was born in the "salt box" house located only 75 feet away from the birthplace of his son John Quincy Adams. In the John Quincy Adams Birthplace, young John and his bride Abigail started their family and the future President launched his career in politics and law. John Adams maintained his law office in the house and it was here that he, Samuel Adams and James Bowdoin wrote the Massachusetts Constitution. This document, still in use today, greatly influenced development of the United States Constitution.
---
Fundraiser for Boston Healing Hands 
Come to a party that makes a difference! Boston Healing Hands (BHH) is a non-profit volunteer organization dedicated to providing, fostering, and expanding quality rehabilitation services for countries in need.  BHH is currently sending teams to Haiti and they are hosting a fundraiser on Saturday, September 10th, from 7-12pm at the Tamboo Restaurant, 252 Main Street in Brockton. This fun-filled event includes a prize drawing for an iPad 2 (!) along with each $25 admission. There will also be a 50/50 raffle, cash bar, complementary appetizers, a slide show of the work BHH is doing in Haiti - and the DJ cranks up around 10pm! Please contact former BHH President & St.C's Warden, Judy Keith, to learn more about this event.
---
Next Sunday: Homecoming on September 11
St.C's Homecoming Sunday will be September 11, 2011. This Sunday marks the official beginning of our Program Year along with registration for Church School. In the coming weeks, stay tuned for new activities and events, including an "Instructed Eucharist" on Sunday morning, a "Get to Know You" Choir Rehearsal with our new Music Director, a "Coffee Hour 101" with our Kitchen Committee - and much more!