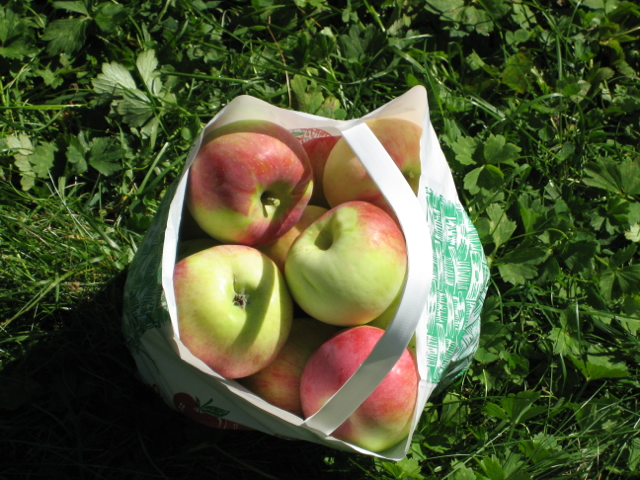 Apple Picking this Sunday
You're invited to roll into autumn with some good old fashioned apple picking! This Sunday, September 25 after Coffee Hour we'll travel to C.N. Smith Farm for fresh produce & fresh fun. This family business is located on 90 acres in East Bridgewater (325 South Street), complete with an on-site cider mill, a produce stand, hay rides, pony rides - and of course LOTS of ripe apples waiting to be picked!
The plan is to carpool to the Farm and join the crowds when we arrive. We'll stay for about 3 hours so there will be plenty of time to wander the orchards, visit the Farm Store, or go for a hay ride. We should be home by 4pm.
Please contact Caroline O'Sullivan to sign-up, and please be sure to let us know whether you can offer a ride or whether you need a ride. We'll do our best to find rides for everyone who's interested.
---
Congressman Keating to Visit Job Club
This Wednesday, September 28, Quincy resident and U.S. Congressman William Keating will visit the St.C's Job Club. Rep. Keating has described job creation as a top priority for his legislative agenda and during his visit he will describe some of his efforts to boost economic vitality and to create jobs in our community.
This special event is being coordinated with The Greater Quincy Career Club, and will follow our regularly scheduled 8:30am morning Eucharist. Come to church at 8:30, and meet the Congressman at 9:30am! All are welcome to attend. For more information please contact our Job Club coordinator, Evie Shore.
---
Lay Eucharist Visitors 
Eucharistic visitors are lay people who have been trained to give the Holy Eucharist to shut-ins and other people who are unable to attend Eucharist services. If you are interested in learning how to participate in this important lay ministry, we invite you to a conversation after church on Sunday, October 9. Learn about the role of Eucharistic Visitors, and how this ministry nourishes our identity as the Body of Christ. This conversation will be led by our parish clergy, as well as two experienced Eucharistic Visitors, Thelma Rice and Helen Shalit. Please contact Rev. Eric to learn more.
---
St.C's Popplet!
Have you ever had a great idea for parish life that you were just dying to share? Have you ever wondered "who does what" at St.C's? Now you know! Click HERE to download a copy of the St.C's Popplet. This organizational chart provides a snapshot of the different ministry and program areas at St.C's. If you're interested in learning more about how we function as a Body, this is a great place to start. And if you have a great idea that you're dying to share - let us know!
---
Mark Your Calendar
The fall season of Christian Formation for Adults will begin this Sunday, September 25. We will meet at the home of Steve & Pam Beatty, beginning with a light supper at 5:30pm and followed by discussion at 6:15pm. All are welcome to attend. Please contact Steve Beatty for more information.
Join us in Gill Hall on Friday, September 30 at 6:00pm for a Parish Potluck, Hymn Sing, and Game Night!
The next meeting of the Book Club will be Sunday, October 2. The book for discussion will be, The Faith Club by Ranya Idliby, Suzanne Oliver and Priscilla Warner. Please contact Judy Keith for more information.
The Blessing of the Animals will take place on the front lawn immediately after church on Sunday, October 2. This special ceremony is offered in remembrance of St. Francis of Assisi and his love for all creatures. We invite you to bring your (friendly) pets to be blessed!
The Mite Box Thrift Shop will re-open for the fall season on Wednesday, October 5, at 10:00am. Regular hours will be 10am-4pm on Wed-Fri, as well as the first Saturday of each month. Pleaes contact Pat Lynch to learn more. Come and find the best bargains of the season!