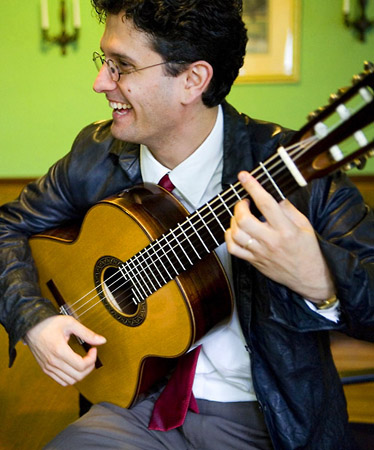 Sunday, March 24th at 4pm* new date due to snow last month*
Aaron Larget-Caplan, one of the Boston area's most active classical guitarists, will present a free concert at 4pm this Sunday as part of the St. Chrysostom's Church Concert Series. Larget-Caplan will be joined by a string a quartet in a concert of chamber and solo music by J.S. Bach, Elliott Carter, and others.
Born in Oklahoma and raised in Colorado, Aaron Larget-Caplan began playing classical guitar at age 16, giving his debut at the Tabor Opera House soon after. Since then he has premiered over four-dozen solo compositions, founded the New Lullaby Project and Greater Boston House Concerts, and begun ¡Con Fuego! – a classical Spanish music and flamenco dance ensemble. He gives regular recitals throughout the country and is a concerto soloist, as well as a sought after chamber musician. He has released two solo CDs, including New Lullaby, about which Fanfare Magazine wrote, "his playing catches every nuance of the music". He is a faculty member at the Boston Conservatory at the University of Massachusetts-Boston. www.aaronlc.com.