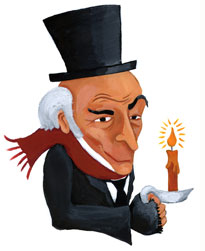 For most of us, the name "Ebenezer" probably has more to do with Christmastime than summertime. In Charles Dickens's novel A Christmas Carol, Ebenezer Scrooge takes center stage as a grouchy, stingy, self-centered... well, Scrooge. And it takes a supernatural roller coaster ride with the ghosts of Christmas past, present, and future to help old Ebenezer rediscover love, joy, and peace. Believe it or not, there's an Ebenezer even older than old Scrooge:
Then Samuel took a stone and set it up... and named it Ebenezer; for he said, "Thus far the Lord has helped us," (1Sam. 7.12).
That's right, the first Ebenezer was a rock. When you lived in the ancient wilderness there weren't always fancy resources available for memorials. So when the Israelites were suffering attacks and threats from hostile enemies, and they were delivered by God, Samuel thought a desert rock would work just fine. Ebenezer literally means "stone of help", and a desert rock became a reminder for Israel about God's help and God's salvation. Ebenezer wasn't the end of their journey, but it was one of their markers along the way.
It doesn't take something fancy to remind us about God's help but it's important to find some kind of reminder. It could be something as simple as... well, this letter. "Thus far the Lord has helped us." Along with hard work and prayer, God has helped us build on the existing foundation of our parish life and worship. We have much to celebrate, and this fall we're looking toward even more opportunities with new staff members, new offerings for youth and families, and a refreshed calendar for parish outreach and events.
As we continue our journey at St.C's thank you for offering your time, your energy, your prayers, and your support. Please help us through the summer months by staying current with your financial pledge. You are one of the reasons we have come "thus far" with God's help. When you get right down to it, each one of us is an Ebenezer for the work God is doing at St.C's. Because even though it doesn't take something fancy to remind us about God's help, God always uses people. Thank you for being one of our Ebenezers, and happy summertime.
Sincerely,
Eric+
Rev. Eric M. Hillegas